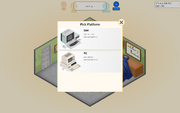 Below you can find details on the various platforms found in the game, in the order they unlock.
By Company
Edit



Main article: Raw Data for Sales Algorithm#Consoles_Market_Points

The "market share" value given by the game in the dialog for choosing a platform has no practical value. The game instead keeps a list of values for the amount of consoles sold at certain points in time. Between two market points the market population for a console evolves linearly.
Trending pages
All items (36)