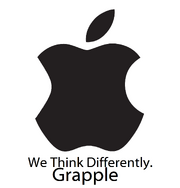 Grapple Incorporated is an American computer hardware, software, and consumer electronics company. Its best-known modern hardware products are the GrPod , GrPhone Smartphone and the GrPad Tablet. Besides the powerful hardware integrated, these products also come bundled with their own application delivery platform, allowing easy access to millions of apps and games.
The company was founded by two college students in a garage to produce and sell their own personal computers. After successful decades in the computer industry with their own PC product line, their CEO and top-level inventor left the company. Grapple then went down into trouble by losing marketshare to other hardware manufactures as well as shares in the software sector to competitor Mirconoft. After the return of the former CEO, Seth Blobs, Grapple revolutionized the industry again with their cutting-edge smartphone, the GrPhone, followed by the tablet computer GrPad.
Facts
Grapple is a direct reference to Apple in real life.
Grapple's logo is the same as Apple's in real life, just with another bite at the left side
"We think differently" is a parody of Apple's "think differently"