This page applies partially or entirely to version 1.4.5.

Its information may not be accurate for newer versions of the game.
If you update the article to reflect the current version, please archive the page referring to the older version and categorize adequately before removing this template. Please also change the background colour when you change the fitting!
MBox Next/1.3.9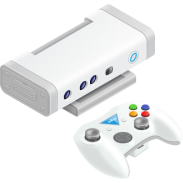 Release Date: Year 29 Month 12 Week 4
Discontinued: Year 260 Month 12 Week 4
Company: 
Mirconoft
Target Audience: Everyone
License Cost: 1M
Development Cost: 100K

The mBox Next is the last release by hardware and software manufacturer Mirconoft, and is the successor of the mBox 360. It is the last in the mBox line.
The mBox Next is released before its main rival, the Playsystem 5 by Vonny. Like the mBox One, it is the most popular console until the release of the Playsystem 5.
The mBox Next appears to be modelled after the Kinect, like it says in the in-game Industry News.
Target Audience
Edit
Best-fitting: Everyone (x1.3), Mature (x1.2)
Well-fitting: Young  (x1)
Industry News
Edit
"For fans of the mBox, the long wait for an update to the console will soon be over as Mirconoft has announced that the mbox Next will be available later this year. The new console seems to cleverly integrate Mirconoft's own motion sensor add-on for the mBox into one small package. The strength of the hardware seems to match expectations." - Year 27 Month 8 Week 4